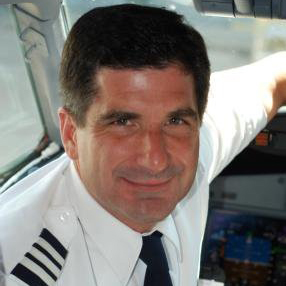 Ronald attended Syracuse University where he received his B.S. in Aerospace Engineering. He also attended the United States Air Force Academy where he studied Astronautical Engineering and was involved in the Astronomy Club, Scuba Club, Mountaineering Club, Intercollegiate Fencing, and was a Group Council Representative.
Ron's military experience includes being the Aircraft Commander/Instructor Pilot for the 328th Airlift Squadron. In addition, he has also held positions of Chief of Training, Night vision goggle flight test pilot and instructor, Niagara Air Show display aircraft coordinator, as well as having flight test experience with equipment and procedures for combat airdrop operations at Natick Laboratories, MA.
Ron is currently a Captain at American Airlines with over 10,000 hours of flight time in a jet aircraft. He was a recipient of the American Outstanding Checkride Award and the USAF Air Medal and Aerial Achievement Medal. He was also part of the NASA Human Exploration Research Analog 2016 Mission Specialist for a 30 day deep space simulation at the Johnson Space Center in Houston, TX.